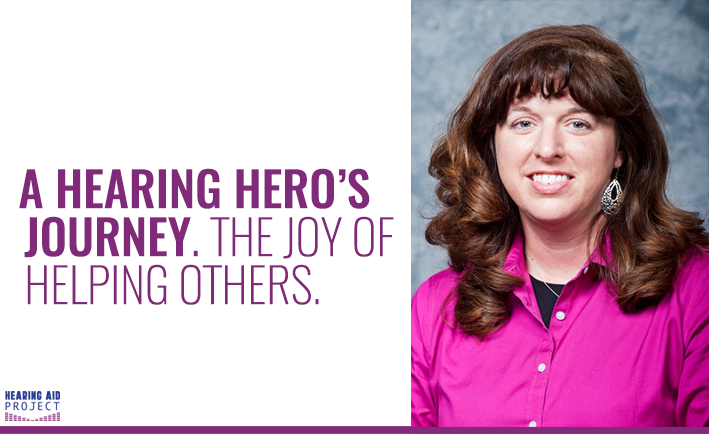 14 Jun

An Audiologist's Perspective of the Project

Audiologists are essential to the success of the Hearing Aid Project. Their time and expertise in fitting patients with their hearing aids is one of the most important parts of the process. The day a recipient is fit with their hearing aids is the day they regain everything they've been missing. One of the remarkable, life-changing hearing heroes we are particularly thankful for is Dr. Devon Weist.

She is an audiologist and Clinic Director at University of South Florida Hearing Clinic. Weist has been practicing for 11 years, but her interest in audiology was not immediate.

"Most people beginning in our field are initially attracted to Speech Language Pathology," she says. "My undergraduate major was in Communication Sciences and we were required to take introduction-level courses in both fields. After the first class of Intro to Audiology, I knew this was what I wanted to do."

Through her work in hearing health, Dr. Weist quickly realized that the cost of hearing aids was often a barrier for many with hearing loss in her community. Her passion for helping those in need led her to USF Hearing Clinic and her involvement in the Hearing Aid Project. "We are one of the few clinics in the Tampa area that provides options for alternative funding sources for hearing aids, so the decision to participate in the Hearing Aid Project was a no-brainer," she says. "The more options we can offer our patients, the better we are able to serve their needs!"

Despite her hectic schedule as Clinic Director, participating in the Hearing Aid Project has been a seamless process. "Hearing Charities of America has done a wonderful job in organizing this program," she adds. "I make the decisions on what hearing aids are best suited for my patient and then those hearing aids are refurbished and sent directly to our clinic. There is no additional work on my part!"

Dr. Weist has successfully fit three patients through the Hearing Aid Project. She encourages audiologists to donate their time to help their patients regain more than just their hearing. "The patients I have worked with have been so thankful for the opportunity to receive hearing aids and gain back so much in terms of employment opportunities, social interactions, and independence," she says. "There is nothing better than being able to provide much needed hearing aids to a person who otherwise would have nothing! Our clinic feels a huge relief knowing we can refer patients in need to the Hearing Aid Project."

Are you an audiologist who's ready to be a hearing health hero for the Hearing Aid Project? Please call 816.333.8300 or visit www.hearingaiddonations.org to explore the many ways you can help the Hearing Aid Project. Join our team of hearing health heroes today!